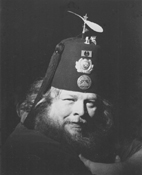 Bud Webster :: Poetry Editor and Resident Biblio-tweak
Bud Webster lives surrounded by more than 10,000 books, from ratty, dog-eared paperbacks to rare, signed first editions. There are books in every room except the smallest ones, and occasionally (like Scrooge McDuck) he likes to gather them all in a pile in the middle of the floor, toss them up in the air, and let them come down and hit him on the head. A columnist for the SFWA Bulletin and frequent contributor to the "Curiosities" page of F&SF, he's the author of 41 Above the Rest: An Index and Checklist for the Anthologies of Groff Conklin, the definitive bio-bibliography on the subject, as well as The Joy of Booking: Webster's Guide to Buying and Selling Used SF and Fantasy Books. He also writes fiction, but not nearly often enough to suit Mary, his Significant Other. He lives in Richmond, Virginia, with the long-suffering Mary and three damn cats.
Photo by Wolfgang Jasper.
Past Masters columns
Anthopology 101 columns
A book version of the Anthopology 101 columns is available from The Merry Blacksmith Press.